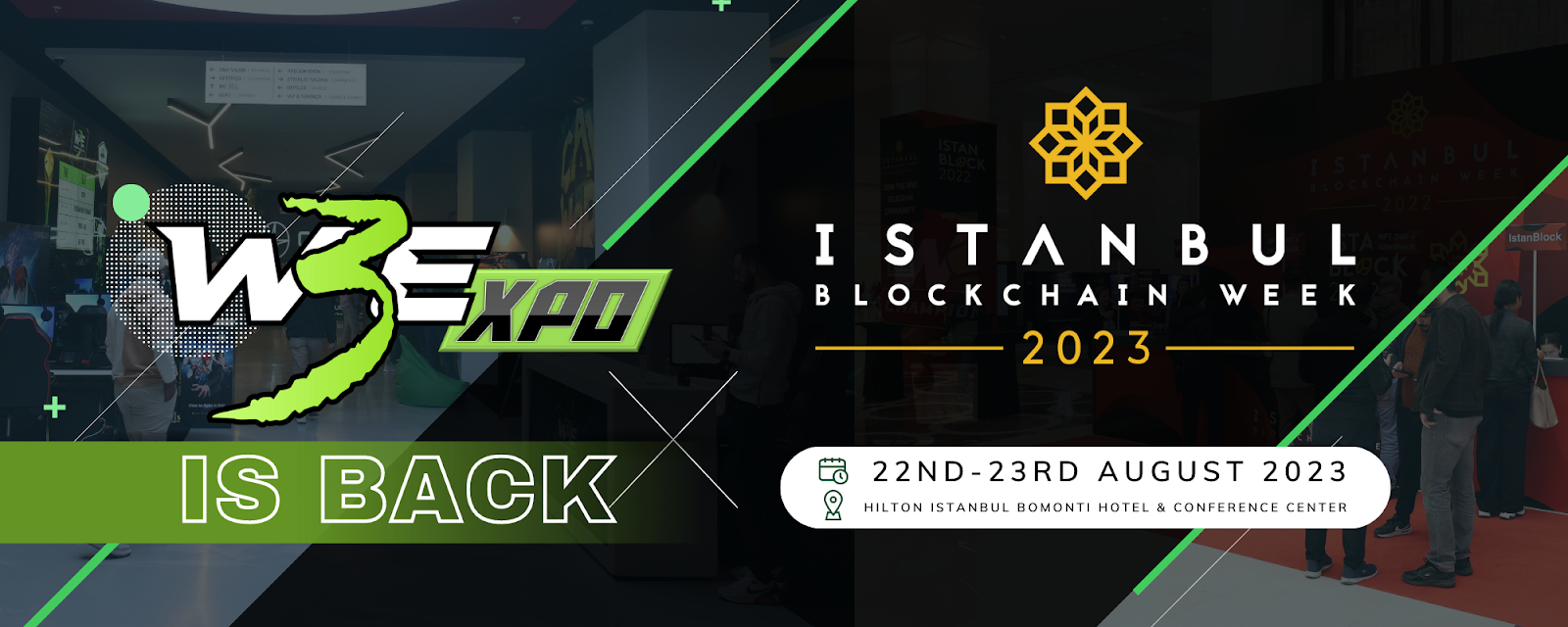 The world's premier Web3 gaming event, W3Expo is back for its second edition on 22nd-23rd August 2023 at the Hilton Bomonti Conference Center & Hotel. Running alongside IstanBlock as part of Istanbul Blockchain Week, W3Expo is set to deliver another groundbreaking showcase of the latest Web3 gaming advancements and trends.
Unlike chain-exclusive exhibitions, W3Expo 2022 was the first E3/Gamescom-style event that catered to all Web3 gamers, regardless of the platform they prefer.
Thang Phan, W3E Marketing Strategist, said: "Collaborating with Istanbul Blockchain Week is an incredible opportunity for W3Expo to connect with a broader audience and amplify the excitement around Web3 gaming. This synergy between blockchain technology and gaming is the future, and we are beyond ecstatic to play a pivotal role in shaping that future."
This year's W3Expo, which is organized by EAK Digital, a leading web3 PR and Marketing agency, is set to be an extraordinary event as it will be held jointly with Istanbul Blockchain Week (IBW), Turkey's largest blockchain conference. Bringing together global leaders in media, government, and blockchain technology, IBW provides the perfect backdrop for two days of immersive Web3 gaming experiences. W3Expo will feature a diverse mix of professional gamers, Web3 game developers, and gaming influencers, creating an exclusive environment for attendees to learn about the latest advancements in Web3 gaming and engage in competitive gameplay with fellow enthusiasts.
One aspect that sets W3Expo apart from other events is its status as the first-ever LAN Web3 esports tournament. W3E successfully hosted this exclusive W3E Championship LAN with pro teams during its inaugural expo. Eight pro esports teams competed on stage in an EV.io tournament for a $15,000 cash prize. Last year's event was a hit and this year's event will continue to build on that foundation. The gaming stage will be buzzing with action, surrounded by expo games and showcasing intense competition throughout both days. With official game partnerships set to be announced in the coming weeks, W3Expo offers participants the perfect blend of gaming, networking, and innovation.
Damian Bartlett, W3E Team Lead, said: "I can't express how thrilled we are to bring W3Expo back for a second year. This is where the magic happens – where gamers, developers, and innovators from around the world converge to celebrate and shape the future of Web3 gaming. Get ready for an unforgettable experience, because this year's expo is going to be nothing short of spectacular!"
The W3Expo team, composed of former professional gamers with experience in both Web2 and Web3 gaming, leverages their extensive background in competing and organizing gaming events to create a truly unique and exhilarating expo. Designed to cater to all gamers, W3Expo offers competitive gameplay for those seeking a challenge, as well as in-depth analysis and insights into upcoming games for casual gamers. As new gaming expos emerge in the Web3 space, W3E takes pride in its position as the longest-running Web3 gaming event, delivering an unparalleled experience for all attendees.
Tickets can be purchased at a discounted rate via the Istanbul Blockchain Week website, giving you access to the Istanbul Blockchain Week conference, as well as W3Expo and InstanBlock.
About W3E
W3Expo is the premier Web3 gaming event, dedicated to showcasing the latest in Web3 gaming technology and trends. Established in 2022, W3Expo is the first and only event of its kind, attracting developers, gamers, and enthusiasts from around the world. Organized by EAK Digital, a leading web3 PR and Marketing agency, W3E is a sub brand of EAK Digital that is led by ex professional gamers Damian Bartlett and ex Faze Clan Thang Phan. W3E solely focuses on web3 gaming and esports, and provides consultancy services to web3 games. W3Expo is uniquely positioned to offer attendees an unparalleled experience in both Web2 and Web3 gaming.
For all press inquiries please contact [email protected]